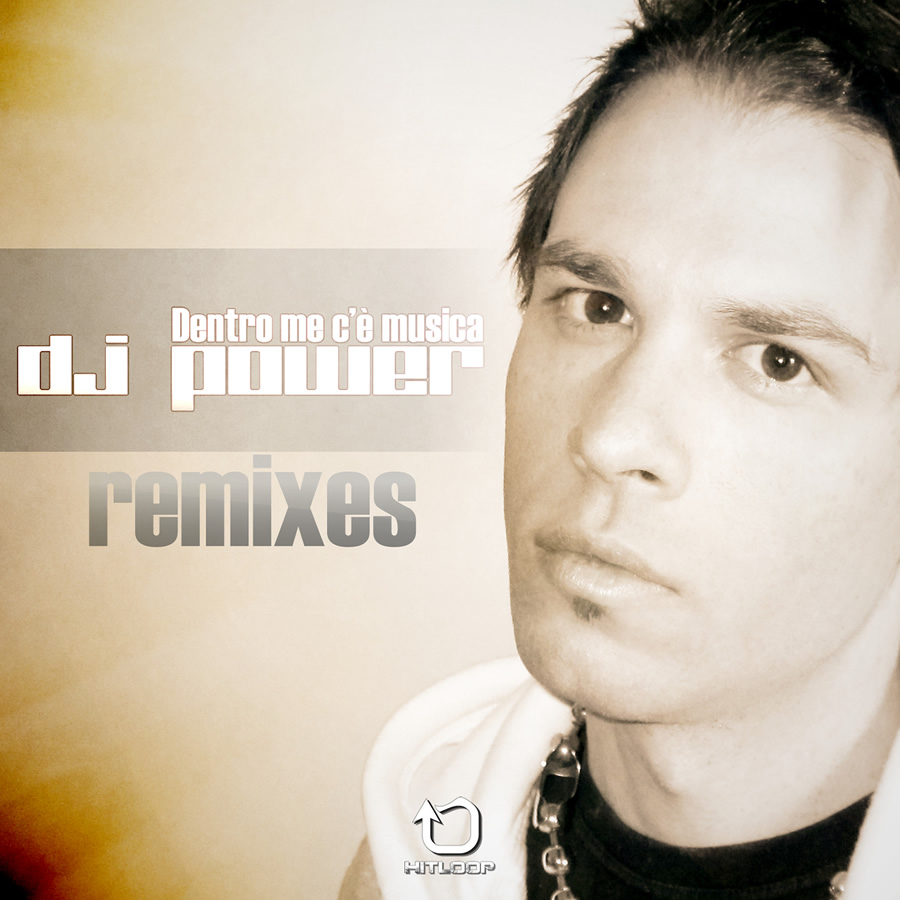 Dj Power presents "Dentro Me C'è Musica (Remixes)", the special edition of his latest song in maxi single version which includes 9 remixes!
Among the remixers are Miguel Valbuena, Alan Bounce, EmJ, Ramon GZ!
The maxi single includes 9 extended versions, and 6 radio edit versions, and will be available from June 8, 2012 on the best digital stores!
Published by the record label Hitloop!
INFO:
Artist: Dj Power
Title: Dentro Me C'è Musica (Remixes)
Label: Hitloop
Release Date: 08.06.2012
Buy Now
BUY NOW ON:

Tracklist
01.Dj Power – Dentro Me C'è Musica (Miguel Valbuena 143 BPM Hands Up Mix)
02.Dj Power – Dentro Me C'è Musica (Italo Maranza Mix)
03.Dj Power – Dentro Me C'è Musica (Alan Bounce Rmx)
04.Dj Power – Dentro Me C'è Musica (Love & Passion Mix)
05.Dj Power – Dentro Me C'è Musica (Ramon Gz Club Mix)
06.Dj Power – Dentro Me C'è Musica (EmJ Stretch Kick Mix)
07.Dj Power – Dentro Me C'è Musica (Miguel Valbuena Dubstyle Mix)
08.Dj Power – Dentro Me C'è Musica (Miguel Valbuena 128 BPM Hands Up Mix)
09.Dj Power – Dentro Me C'è Musica (Miguel Valbuena On Alpha Centauri Mix)
10.Dj Power – Dentro Me C'è Musica (Italo Maranza Edit)
11.Dj Power – Dentro Me C'è Musica (Miguel Valbuena 143 BPM Hands Up Edit)
12.Dj Power – Dentro Me C'è Musica (Ramon Gz Radio Edit)
13.Dj Power – Dentro Me C'è Musica (Miguel Valbuena Dubstyle Edit)
14.Dj Power – Dentro Me C'è Musica (Miguel Valbuena 128 BPM Hands Up Edit)
15.Dj Power – Dentro Me C'è Musica (Miguel Valbuena On Alpha Centauri Edit)
Listen on YouTube
www.gianfrancocomis.it
License Request: info@gianfrancocomis.it
Booking Works or Artists: info@energymusicstudio.com
www.energymusicstudio.com
Subscribe to this channel!!! www.youtube.com/GianfrancoComis
Iscriviti a questo canale!!! www.youtube.com/GianfrancoComis
Suscribete a este canal!!! www.youtube.com/GianfrancoComis